Feature
Forms with buttons
Form buttons make it easy for users to choose between a few options.
Form buttons are exactly that – buttons on a form!
Buttons are a visual way to give users of your form a clear, visual choice between a few different options.
Here are some examples: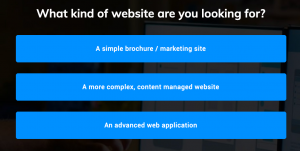 You might use form buttons to:
Ask a "yes" or "no" question
Get users to choose from a list of 3-4 answers
Ask an easy question up-front to make the form appear easy to fill in.
Why buttons are great for usability
Starting your form with buttons is a very engaging way to start your form.
By giving users only a few clear choices, you'll cut down on the "paradox of choice" and get more users starting to fill in the form.
For this reason, we recommend asking simple, straightforward "button-powered" questions first – and then adding more personal questions towards the end of the form.
Buttons can either be text-only, or have images.
Button text should be relatively short and easy to understand – for example setting button text to options like, "Yes" or "No" will suffice.
You can configure text and images by simply selecting the buttons in the Growform editor once they've been created.
Buttons can be configured to appear 100% width or side-by-side.
For longer text, we recommend using 100% of width, whereas side by side buttons are best for shorter options.
To change these options, select the buttons in the Growform editor and edit "buttons per row".
Setting a button to "1" per row will make it take up 100%, and any other option will set the buttons to appear side by side.
How to create a form with buttons
To create a form with buttons, first sign up to Growform and create a form.
90% of our templates have buttons on the first step, so it should be very straightforward. If you do need to create your own buttons, simply hit "Add field" and choose "Buttons' from the list of field types.
Do all plans include buttons in forms?
Yes, good news! All plans let you add buttons to your forms - it's part of the standard feature set.
It all starts here...
Start creating beautiful, multi-step forms that convert with a zero commitment free trial (no credit card required):