How To Add Google Analytics (GA4) To Unbounce
Integrating Google Analytics (GA4) with Unbounce is an essential step if you want start seeing data like page views and form completions appear inside Google Analytics.
But how do you go about connecting these two powerful tools?
In this comprehensive guide, we'll walk you through the entire process of creating an Unbounce Google analytics integration, step by step.
Not only will this help you gain valuable insights into your landing page performance, but it will also enable you to fine-tune your marketing strategies for maximum impact.
Google Analytics is a widely used web analytics service that tracks and reports website traffic and user behavior. GA4 is the latest version of Google Analytics, which replaces the universal analytics tags (UA-), which will be phased out in July 2023.
Unbounce, of course, is the popular landing page builder that allows you to create and optimize landing pages to drive conversions. With its user-friendly drag-and-drop interface and a wide range of customizable templates, Unbounce makes it easy for marketers to create high-converting landing pages without needing any coding knowledge.
The instructions provided here are the same for Unbounce's Classic Builder and newer Smart Builder.
Why integrate Google Analytics with Unbounce?
Integrating Google Analytics with Unbounce is crucial because it allows you to analyze the performance of your landing pages and gain valuable insights into users' behavior. This information can help you make informed decisions to optimize your landing pages, ultimately leading to increased conversions and better ROI.
Some benefits of setting up an Unbounce Gooogle Analytics integration are:
Tracking user behavior on your landing pages, such as time spent on the page, bounce rate, and conversion rate
Identifying the most effective traffic sources for your landing pages
Utilizing goal tracking to measure the success of your marketing campaigns
Gaining insights into user demographics, location, and device usage to better target your audience
Prerequisites for integrating Google Analytics with Unbounce
Before you can integrate Google Analytics with Unbounce, you'll need:
A Google Analytics account: If you don't have one, sign up for a free account at analytics.google.com
An Unbounce account: Sign up for a free trial or log in to your existing account at unbounce.com
Step-by-step guide to adding Google Analytics (GA4) to Unbounce
a. Creating a Google Analytics property
Log in to your Google Analytics account.
Click on "Admin" in the bottom-left corner of the screen.
In the "Account" column, select the account where you want to create the Google Analytics property.
In the "Property" column, click on the "Create Property" button.
Enter a name for your GA4 property, choose the reporting time zone and currency, then click "Next."
Fill in the details about your business or organization and click "Create."
Here's a gif of how to create a Google Analytics property: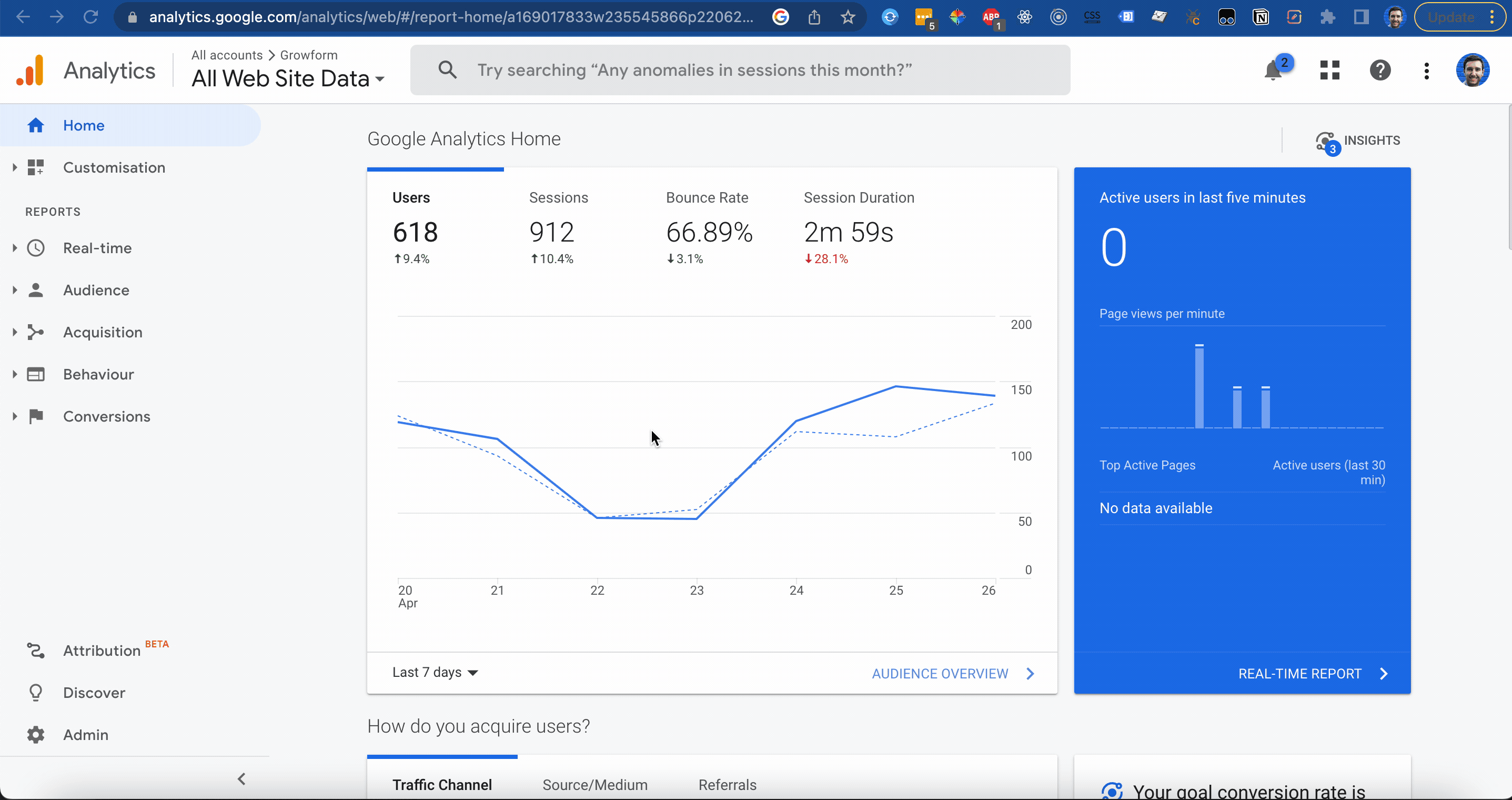 b. Locating and copying your Google Analytics tracking code
In the GA4 property you just created, click on "Data Streams" in the "Property" column.
Click on "Web."
Enter your website URL and name the stream
Click "Create Stream: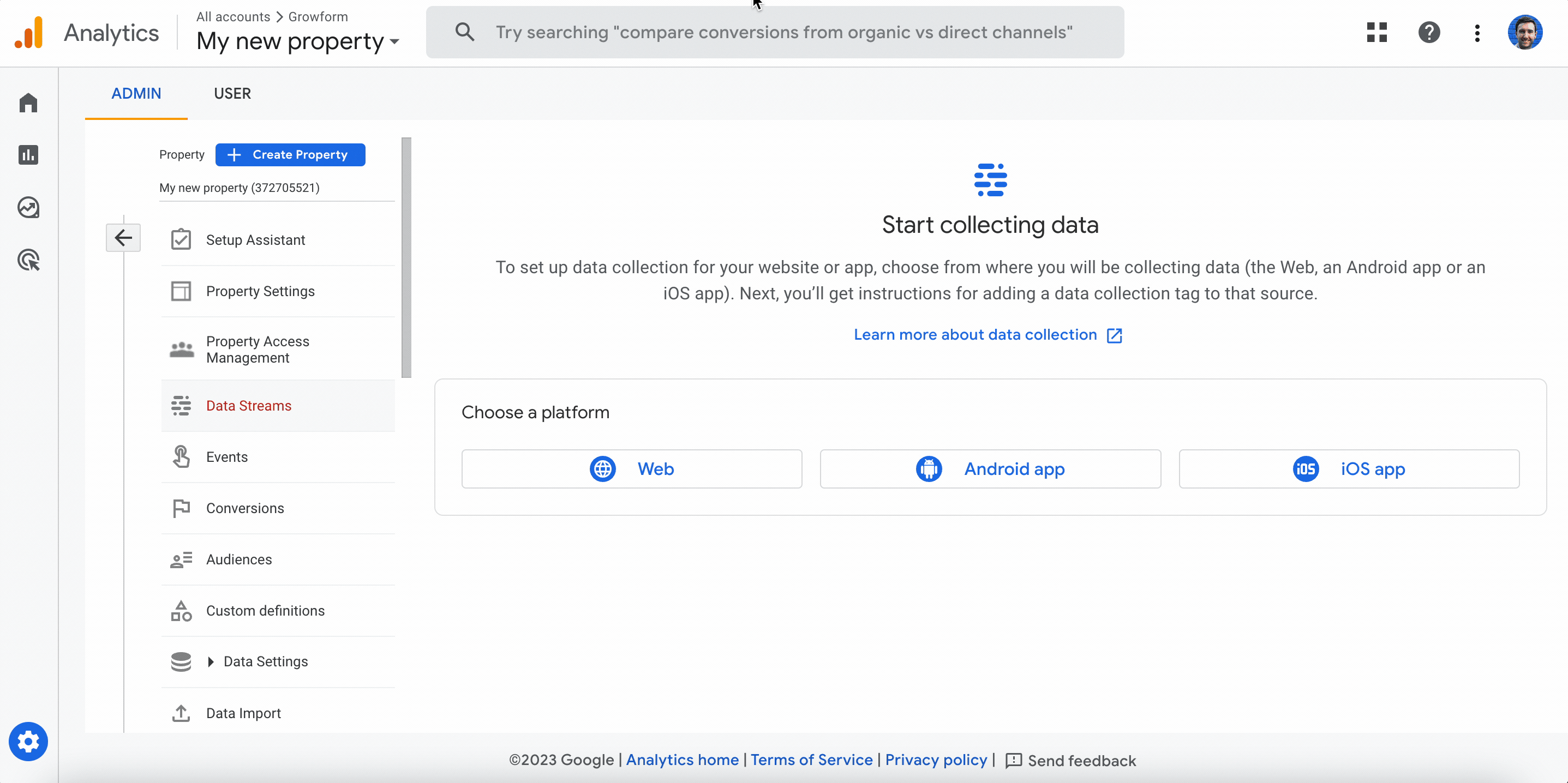 Then, copy the "Measurement ID" located in the "Tagging Instructions" section. Copy this to your clipboard or a notepad file – you'll need this code to integrate Google Analytics with Unbounce: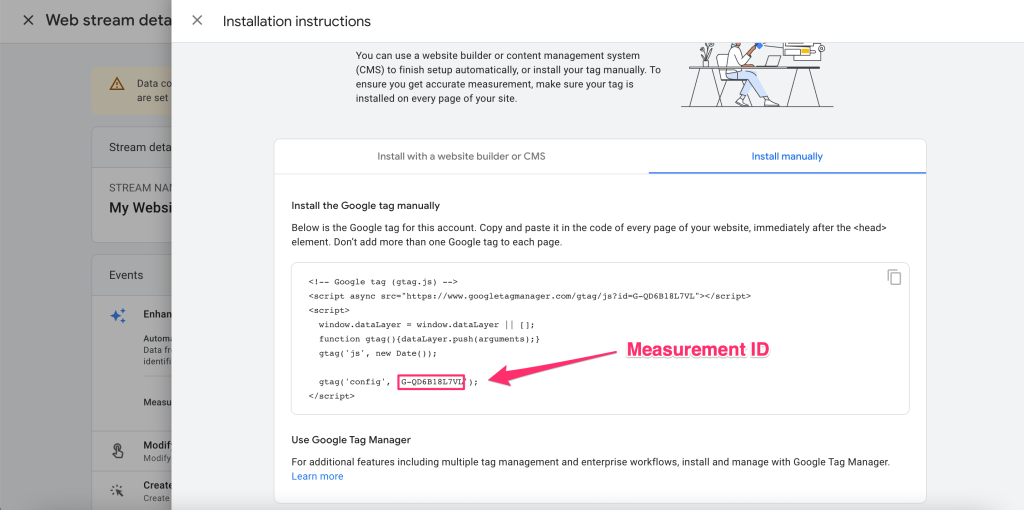 c. Adding the GA4 tracking code / Google Analytics script to Unbounce
First, sign in to your Unbounce account.
Next, follow these steps to get GA4 set up on Unbounce:
1.) Click "Settings" on the left-hand side menu.
2.) Choose "Script Manager" from the options that appear.
3.) In the top-right-hand corner, hit the blue "Add a Script" button.
4.) In the "Add a Script" window, pick "Google Analytics 4" from the drop-down list.
5.) Paste your GA4 tracking ID (also known as a Measurement ID) in the blank field.
6.) Click "Add Script Details" and a new page will pop up to input more "Script Details."
Then, in the "script usage" tab, select the domain where you want to apply the GA4 tag (meaning GA4 will gather analytics for these landing pages).
Don't forget to hit "Save and publish" to finalize the setup: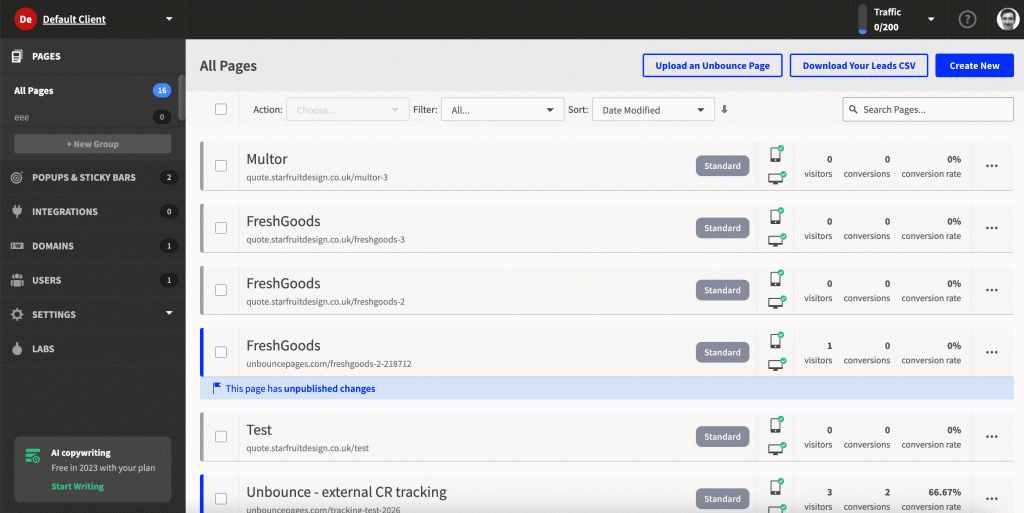 d. Tracking enhanced measurement in Google Analytics
Although Google Analytics will start collecting many useful sevents out of the box, it's possible to configure it to collect more – such as page views, scrolls, scrolls, outbound clicks, form interactions, video engagements and file downloads.
We recommend setting these to "on", as you can always filter out the data you don't need.
To enable enhanced event measurements Google Analytics platform, follow these steps in GA4:
1.) Go to "Admin" > "Property" > "Data Streams."
2.) Click on the data stream that matches your landing page.
3.) Switch on the "Enhanced measurement" button.
4.) Click the gear icon to access the "Enhanced measurement" window.
5.) Toggle the radio buttons for various enhanced measurement options in Google Analytics
Don't forget to save your changes: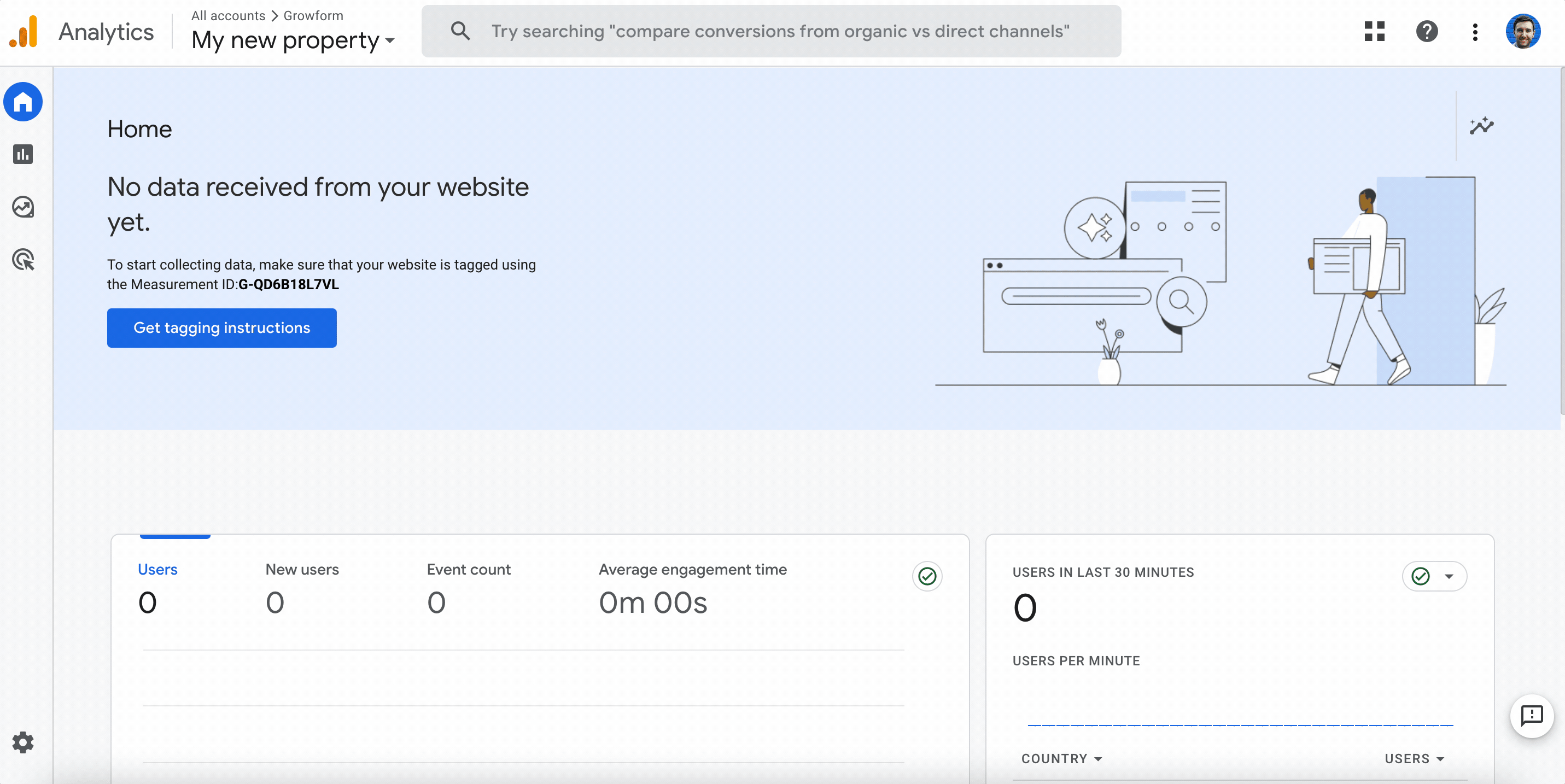 e. Tracking Unbounce page views in GA4
To check your page view metrics in GA4, follow these steps:
1.) In the Google Analytics platform, go to the "Reports" tab on the left-hand side. 2.) Under the "Life cycle" heading, click the "Engagement" drop-down menu, then "Pages and screens." After that, choose the "Page path" option: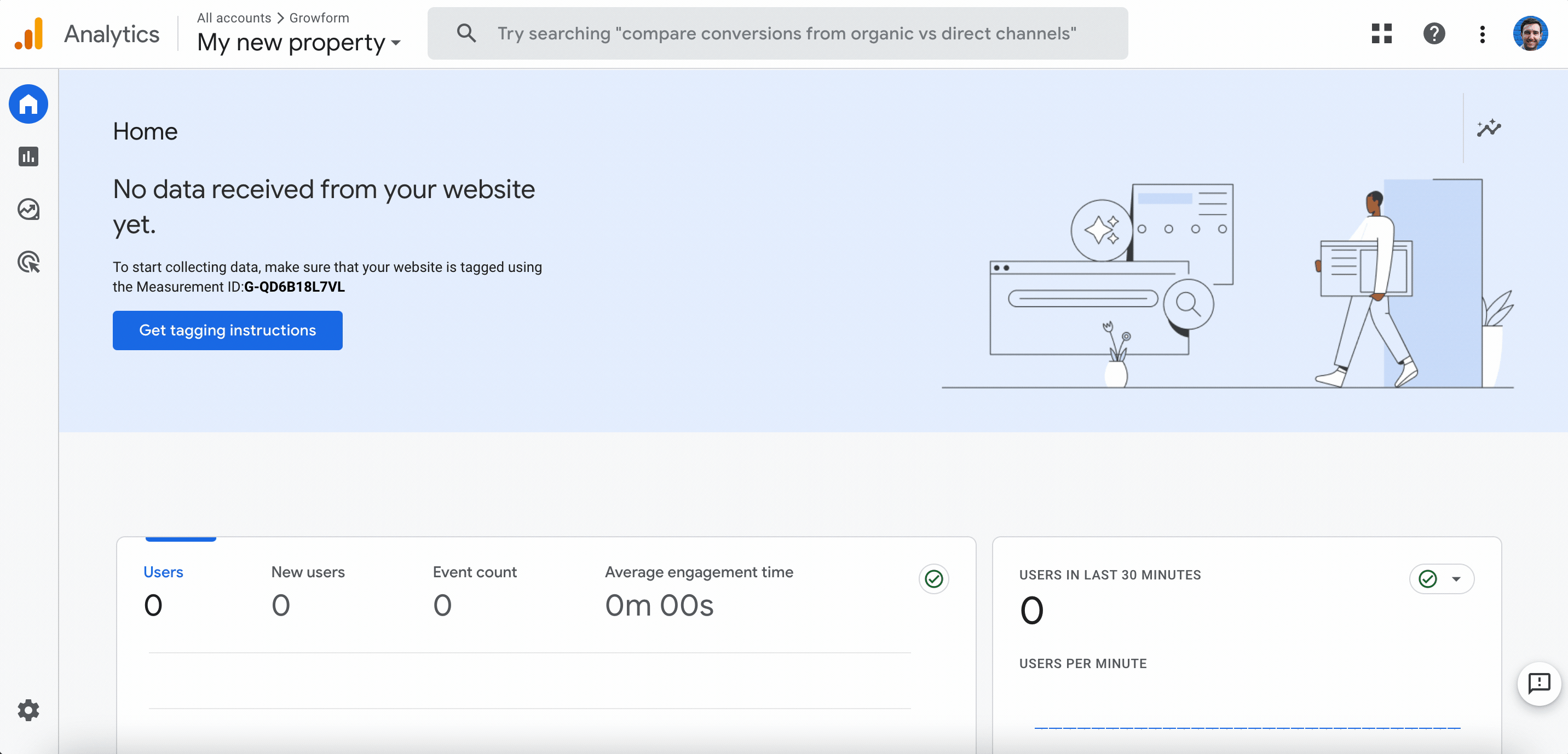 If you see "(not set)" as a title under the Page title tab, this just means that GA4 isn't receiving page titles from Unbounce. To remedy this, just update the "Page Title" metadata settings on your Unbounce landing pages.
In the Classic Builder, the title property can be found under "Page Properties".
Customizing Google Analytics settings for Unbounce
Once you've successfully integrated GA4 with Unbounce, you can customize your Google Analytics settings to better track and analyze your landing page performance. Some customizations you might consider include:
Setting up custom dimensions and metrics to track specific data points unique to your landing pages
Creating custom segments to analyze different subsets of your audience
Configuring event tracking to measure user interactions with your landing page elements
Establishing goals to measure conversion performance
Troubleshooting common issues with Unbounce Google Analytics integration
If you encounter any issues with your Unbounce Google Analytics integration, try these troubleshooting steps:
Verify that you've correctly added the GA4 tracking code to your Unbounce landing page
Check for any JavaScript errors on your landing page that might interfere with the GA4 tracking code
Ensure that your Google Analytics account is properly configured to receive data from your Unbounce landing page
We highly recommend the Google Analytics debugger extension, which will provides a treasure trove of debugging information: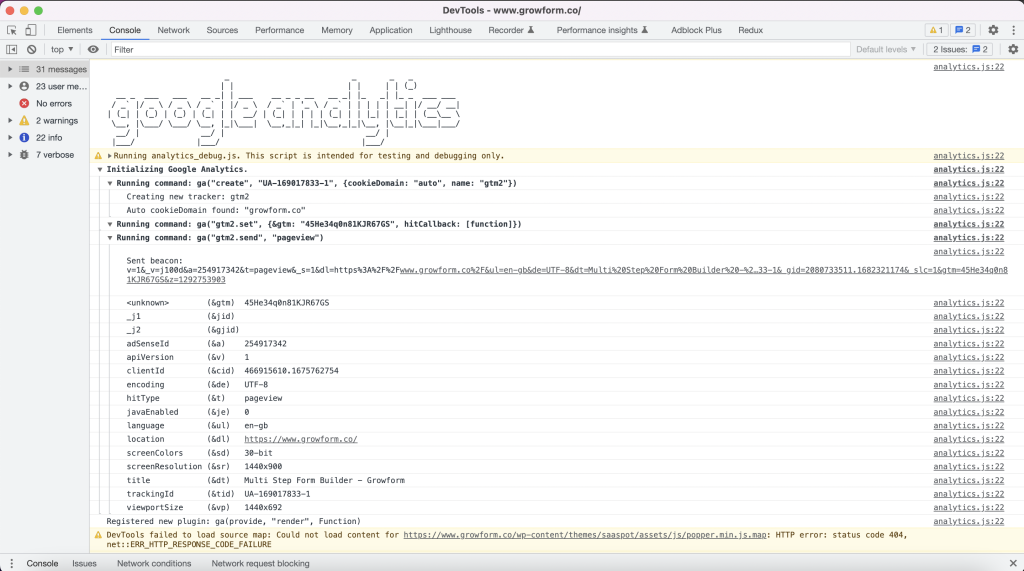 Tracking page views is just the start
While keeping track of page views and landing page performance is a great start, what if you could build beautiful multi-step forms, and track them every step of the way?
With Growform, this is easy. Growform lets you build advanced forms that fit right into Unbounce, whilst keeping GA4 and ad networks up to date every step of the way with one-click integrations!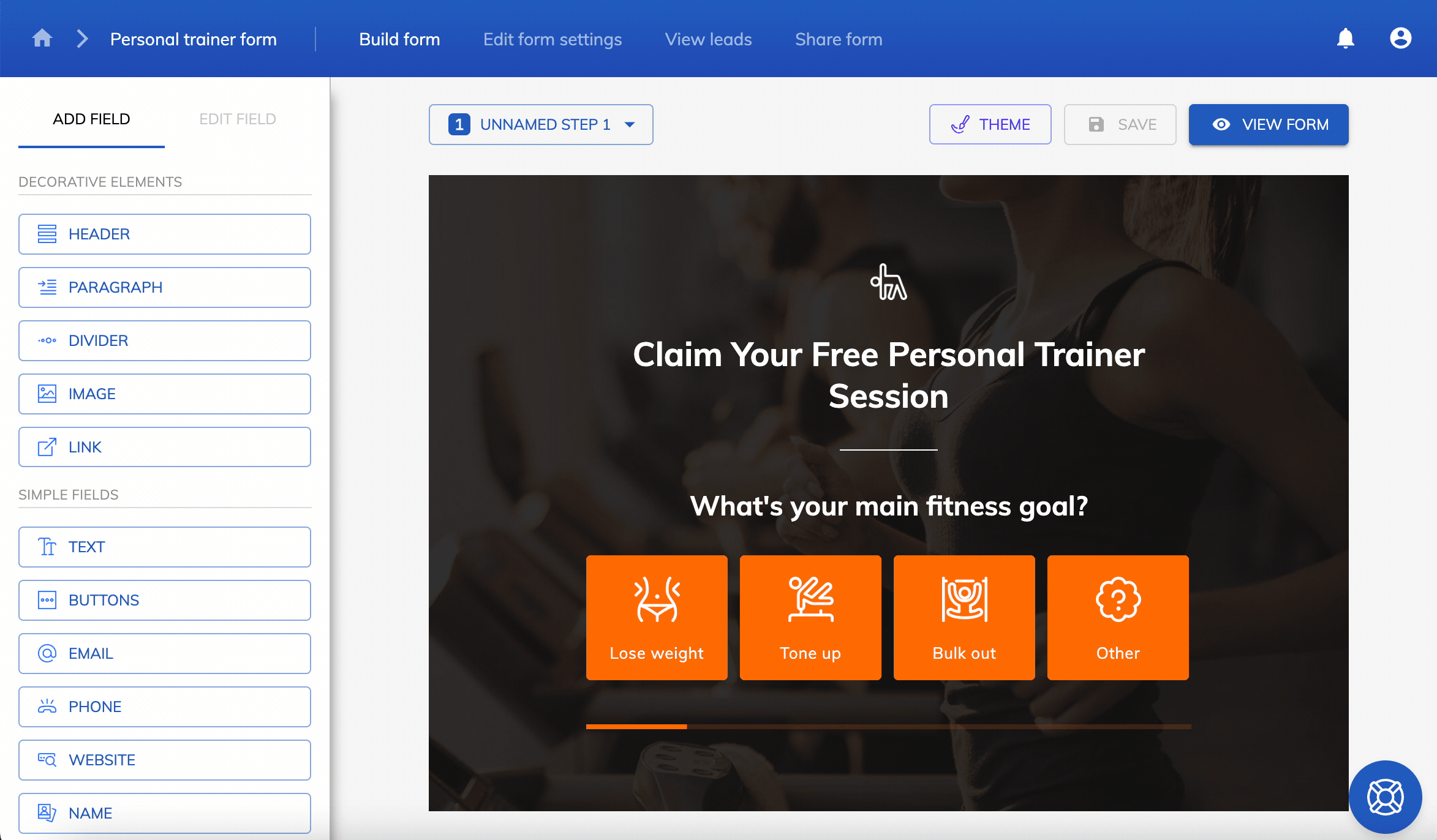 There's a 14 day free trial available, with no credit card required.