Growform: A Powerful Leadformly Alternative
Unfortunately, Leadformly closed its doors back in February 2021, stating:
… the biggest lesson, though, is knowing when to stop. In hindsight, we should have done it a long time ago. Leadformly is a great product, but it's not the product that'll achieve our vision.
Leadformly was clearly a well-loved and well-used product, with plenty of positive reviews – so it is a little mysterious as to why it would be shut down for future customers – but here we are!
Leadformly ran from 2016 to 2022, and featured built-in templates, multiple steps and conditional logic. In its heyday, it was favoured by marketing professionals and agencies to convert more visitors into leads.
What about existing customers of Leadformly?
As far as we can tell, Leadformly still continues to run, and there are no plans to fully depreciate it. But, it's clear the team won't be focusing on it any longer – so it probably won't be being improved.

In our experience, software must be maintained as time progresses and browser technology improves. On unresourced products, bugs continue to appear – but there is nobody there to fix them. So, the software effectively gets more unreliable over time.

Suffice to say that if one of our SaaS suppliers announced they were no longer focusing on a product, we would want to remove our reliance on it.
So what is the Leadformly alternative?
Growform is the modern form builder designed to get you more conversions: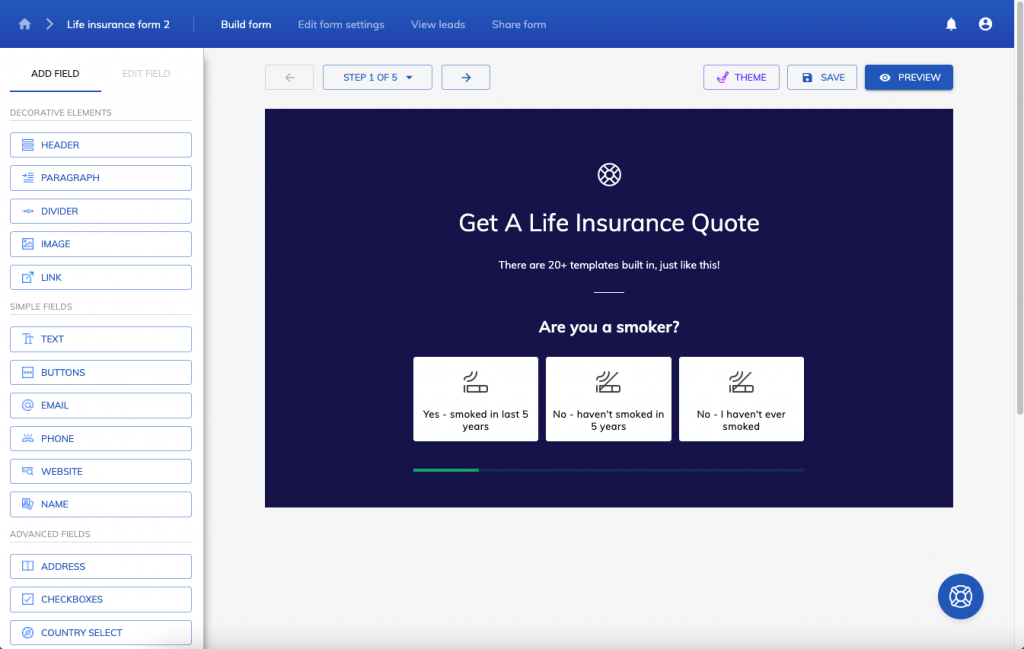 It was built from the ground up with conversion rate optimization best practices in mind, and has quickly become the leading multi step form builder.
Like Leadformly, Growform features:
Templates designed to give you an edge
A focus on multiple steps to boost conversion rate
20+ different fields (phone number, email, address, etc)
The ability to send leads to 300+ different locations with Zapier (including webhooks)
The tool serves similar customers, has similar goals and all key features – so in our opinion, serves as a very solid Leadformly alternative.
What did Leadformly do that Growform can't?
Growform lets you show and hide steps via conditional logic, and send users to different locations depending on what they answered.
Leadformly featured conditional logic that lets you show/hide individual fields, and a similar field is due for release in Q1 2022. Growform is rapidly being built and improved upon, with new features being delivered every few weeks – as mentioned in a recent podcast, "get in on the ground floor with this tool"!
What does Growform do that Leadformly couldn't?
Growform was built more recently over a short number of years (2021 to 2022), so users may find the design and admin layout to be more modern and user-friendly.
It's hard to remember exactly how well Leadformly performed, but Growform have gone to great lengths to ensure forms load blazingly fast – which is why we stand behind it as a great alternative to Leadformly.
How do I try out Growform?
You can start a 14 day free trial of Growform, with no credit card required here.