How To Track Google Ads Conversions With Growform
If you wish to see conversions appear within Google Ads when people submit your form, this guide is for you!
This guide assumes you have Google Tag Manager (GTM) set up. If you don't, follow this guide first.
1 – Create a conversion in Google Ads
First, log into Google Ads and hit "Tools" in the top toolbar, then navigate to "Conversions.

From here, you'll be able to create a new conversion.

Enter the conversion details (such as conversion name and value), and hit "Next".

2 – Copy the global site tag
Once you've created your conversion, you'll be navigated to the "Set up the tag" step.
Choose "Install the tag yourself".
Then, select "The global tag isn't installed on all your HTML pages".
This will show the global site tag, which looks like this: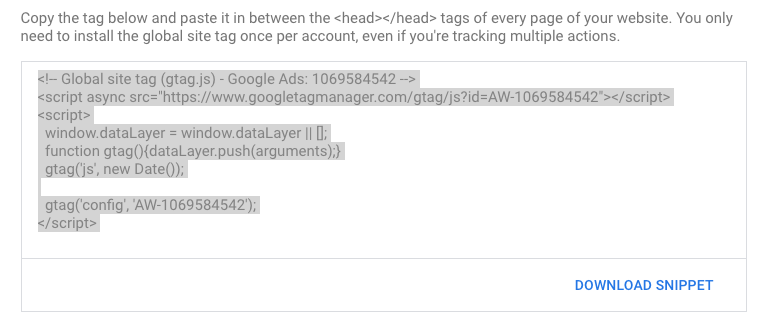 Copy that code snippet and keep it safe. This is the "global site tag", which enables smaller, more specific event snippets to work.

Tracking will not work without it.
3 – Copy the event snippet
The event snippet works with the above-mentioned global site tag to track the specific action that should be recorded as a conversion.

On the same Google Ads page, ensure "Page load" is selected (rather than "Click"), and then copy the event snippet code, which will look something like this:
4 – Paste both snippets into Growform
Now your code is ready, it's time to paste it into Growform so it actually fires when somebody fills in your form.
This bit is easy – just navigate to "Edit form settings" when you're editing your form in Growform.
Find the box called "Custom script to fire on form submission", and both snippets of code into it (with the global site tag first).

It'll end up looking like this:


Finally, hit "Save form settings" at the bottom of the page – that's it!
Now, when people submit your form, you will see the conversion event appear in Google!
Need to track something more clever? Our support team are more than happy to help with custom tracking enquiries – talk to us on live chat!