How Multi Step Forms Can Increase Your Conversion Rate By 100%
This article was updated in April 2023 to reflect new multi step form best practices.
If you're anything like me, you're always on the lookout for conversion rate optimisation (CRO) tricks.

And if you've spent anywhere near as much money on ads as me ($2,000,000+), you've probably tried every CRO trick under the sun.
But have you tried using multi step forms to harness the sunk cost fallacy?

The idea is based on decades-old, proven psychology – and once you understand it, you'll start to see it everywhere.

It's an extremely potent, yet under-used weapon that should be ready and present in your marketing arsenal.

And I'm going to show you exactly how to use multi step forms on your landing page forms to huge effect.
First, What Is "The Sunk Cost Fallacy"?
The sunk cost fallacy is a well-established psychological principle first coined in a journal called "Organizational Behavior and Human Decision Processes", back in 1985 (Arkes & Blumer).

The authors state:
Individuals commit the sunk cost fallacy when they continue a behavior or endeavor as a result of previously invested resources – such as time, money or effort.
In other words, the mere act of starting a process makes a person more likely to finish it.
Let's unpack that with some examples:
Have you ever found yourself 30 minutes into a boring movie, but continued to watch it anyway, since you've already spent half an hour on it?
Or have you felt the urge to buy something at the mall, just because you spent time and effort getting there in the first place?
Perhaps you remember gambling, spending most of your budget, and thinking that you may as finish it now most of the cash is gone?
These are great examples of the sunk cost fallacy in action.
And it doesn't just affect individuals – in fact, the continued investment into the failed Concorde is famously attributed to the sunk cost fallacy. It's even been referred to as "The Concorde fallacy"!
The sunk cost fallacy is basically a fancy way of describing the feeling:
"I've spent a certain amount of time/money/effort on this, so I may as well finish it".
How Multi Step Forms Use The Sunk Cost Fallacy
In the marketing world, CRO experts and leading agencies are using the sunk cost fallacy to great effect in the area of multi step forms.
What's your first thought when you see a form like this?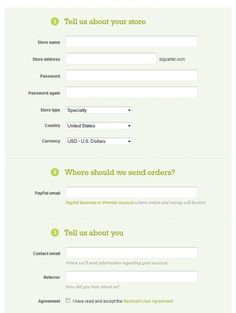 "NOPE!".
But if you could only see a single question at first, you might be more open to start filling it in: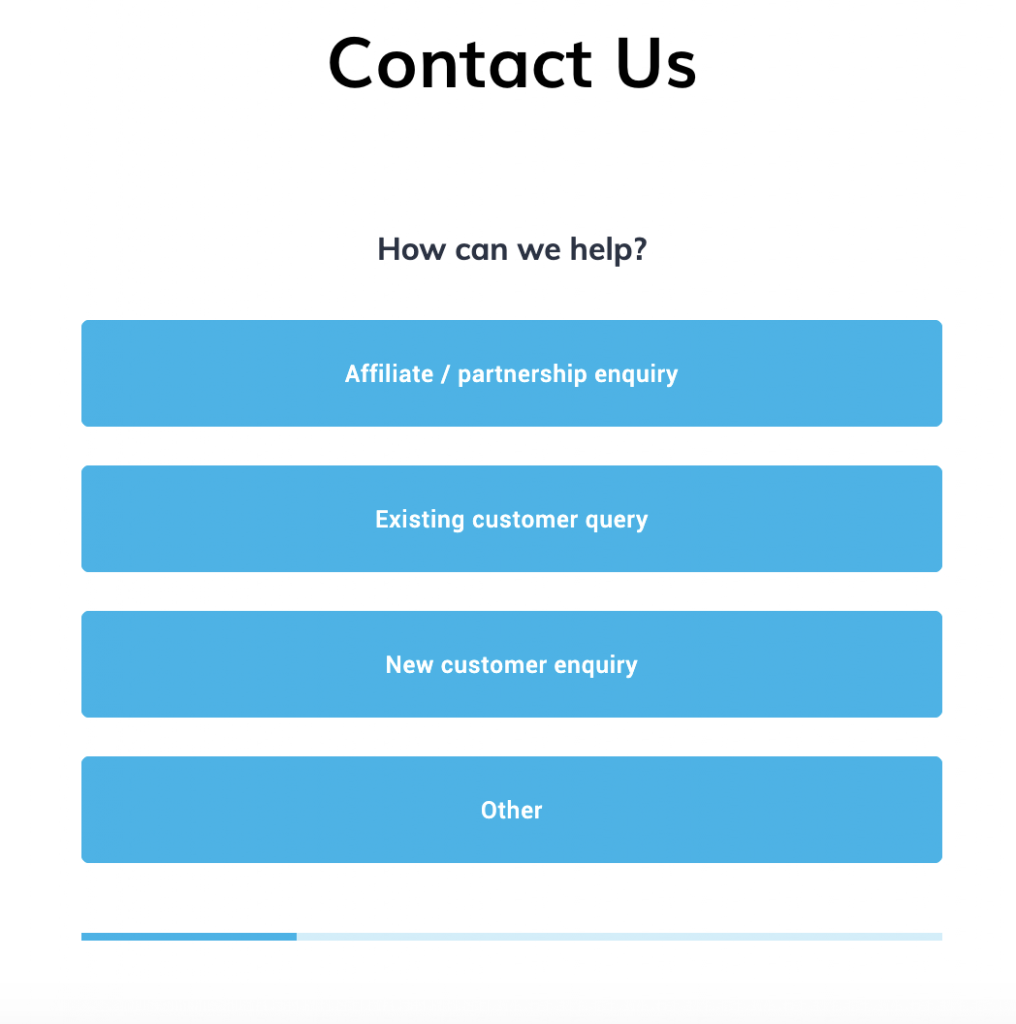 And since you've started, you may as well finish, right? After all, the progress bar indicates you're halfway through now!
This is why multi step forms are so ridiculously effective: they give your visitors a sense of momentum and progress, rather than letting them hit a wall.
Case Studies + Proof Of Multi Step Forms In Action
Klientboost worked with a financial institution who were using a "traditional" (read: long) form. The client had combined all of the contact information needed to get a quote.
The agency got to work and created this beautiful multi step form: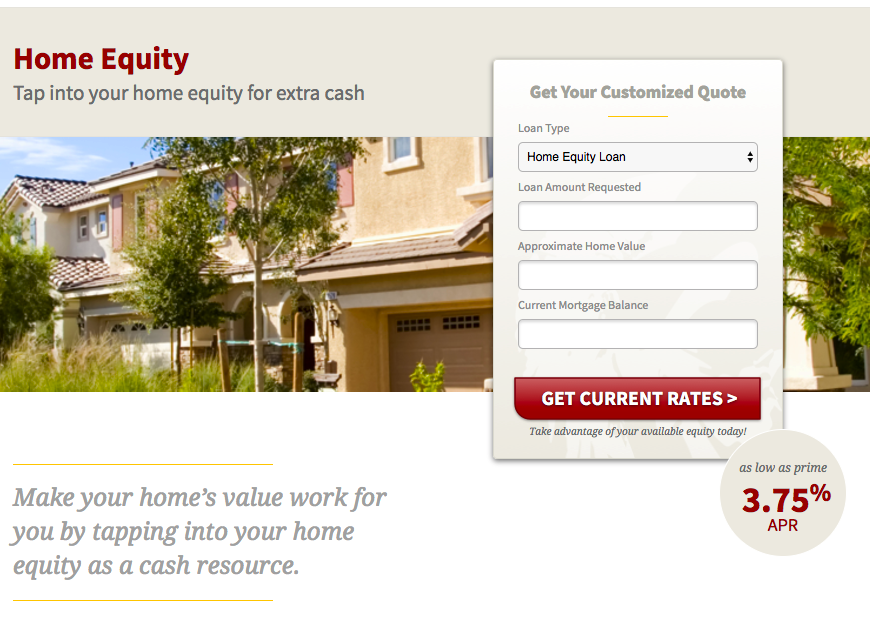 … and here's what happened:
CPA was slashed from $800 to $35
Conversion volume rocketed from 6 per month to 135 per month
Conversion rate went from 1% to almost 20% –

And a completely different niche, they saw a 214% increase in conversion rate by splitting this form into 2 steps: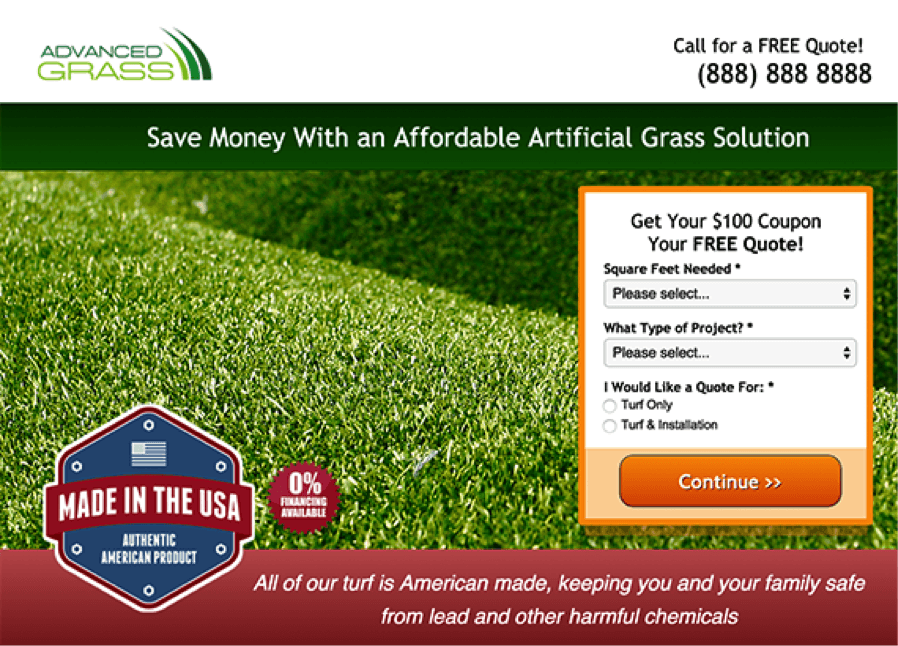 We've seen it time and time again.
Nearly Real Florals – a London based artificial florist – originally had a form that looked like this: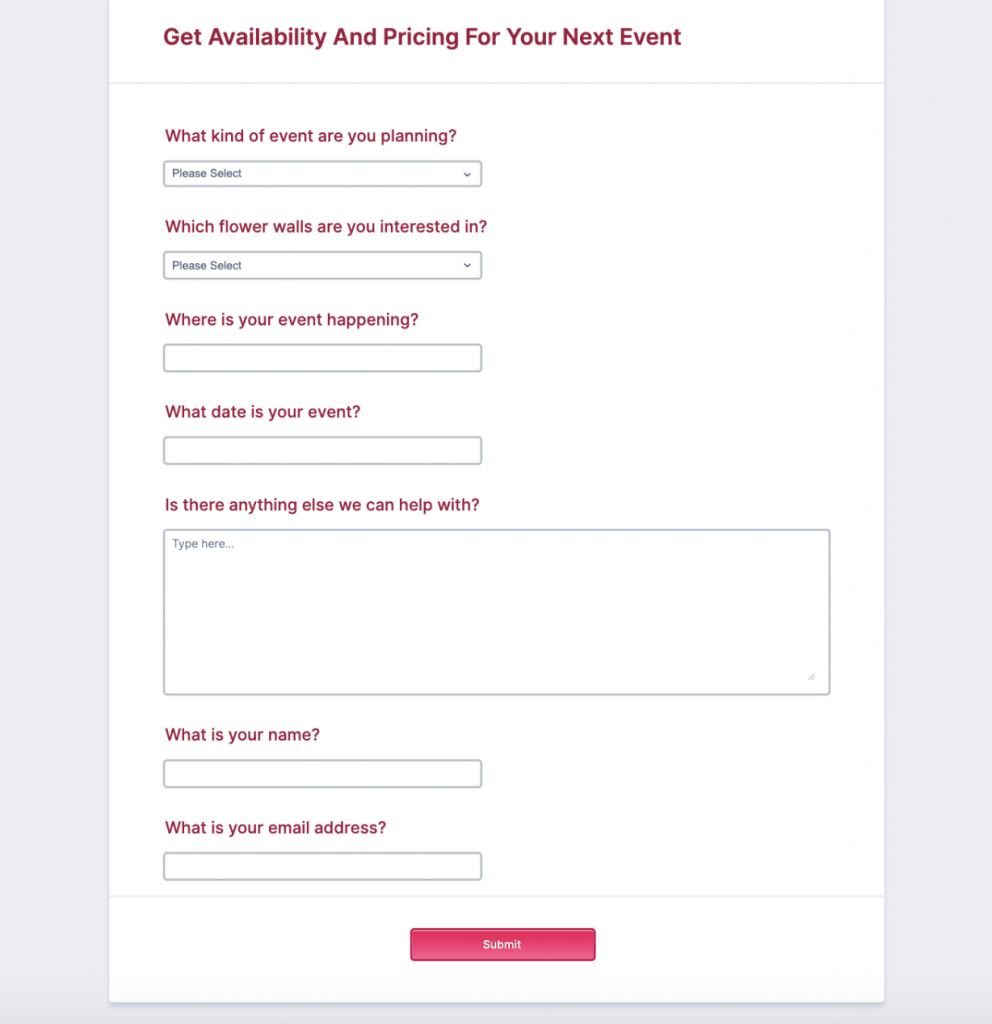 … and used Growform to build a shiny multi-step form that looks like this: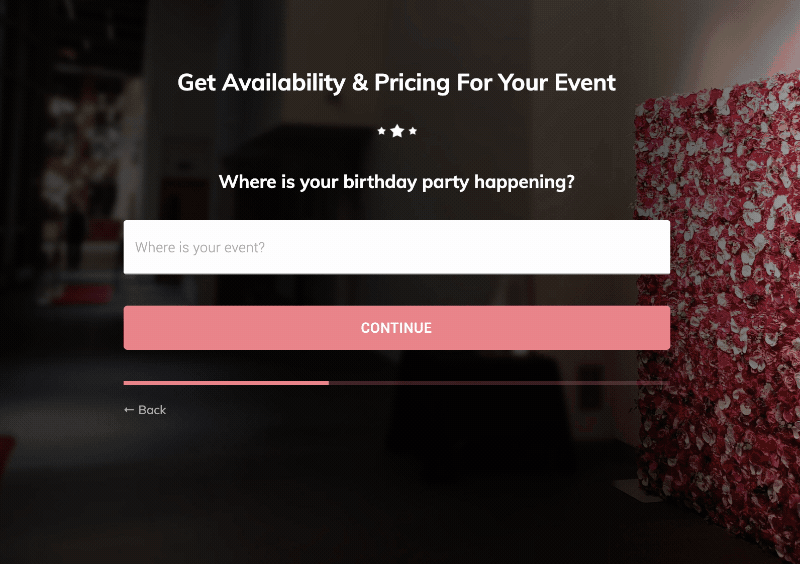 The result?
An 87% increase in conversion rate, nearly doubling their overall lead volume: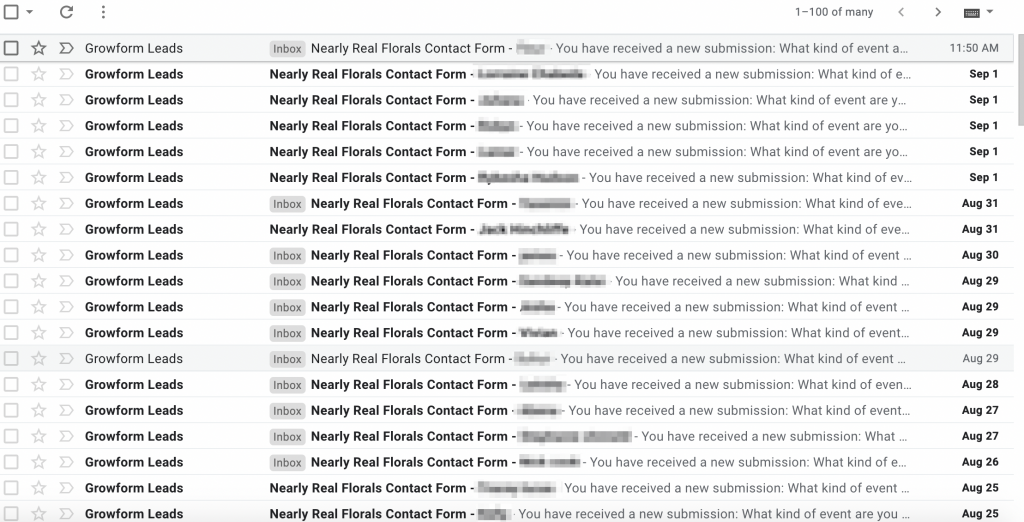 As we've seen from these examples, the power of multi step forms can literally be business-changing.
The Perfect Questions To Ask That Boost Form Conversion Rates
When you build a multi step form, you can't just throw questions at the wall and see what sticks.
You need to ask the right questions in the right order to create a high-converting form.

You should always start your form on a question that is:
Low friction and low commitment
Non-personal, non-controversial and non-intimidating
Positive or evocative of a "yes" response
Ideally, you should be able to provide clear justification for asking the question and tie it back to a benefit the user will gain in exchange for providing the information.
This follows the principle of "quid pro quo", and is why you often see headlines like "Get your free quote" or "Download your PDF guide" on landing pages and forms.
Here are some example of great first-questions to ask:
If you're selling life insurance, ask how much cover the user wants so you can provide an estimate.
If you're selling real estate services, ask the ZIP code of the user's property is so you can value it.
If you're an event planner, ask what kind of event the user is having
If you're a personal trainer, ask what the user wishes to achieve from their sessions.
As the form progresses, you can ask for more information using single button clicks, which will have almost no impact on your conversion rate.
Then, at the end of the form, you can ask those higher perceived-risk questions involving more personal data like email addresses or contact information.
There are over 20 examples of this in our template library.
So What Next… How Do I Actually Create A High Converting Multi Step Form?
Multi step forms have traditionally been a sore subject for marketers, as they usually need hundreds of lines of hacky JavaScript or cobbled together HTML.
Some savvy marketers spend $000's on developers to build multi-step forms, but not everybody has that budget or know-how.
This is why I created Growform.
Growform lets you create high performing multi step forms in seconds. It comes with 20+ high converting templates for different industries, and you can use it even if you don't know how to code: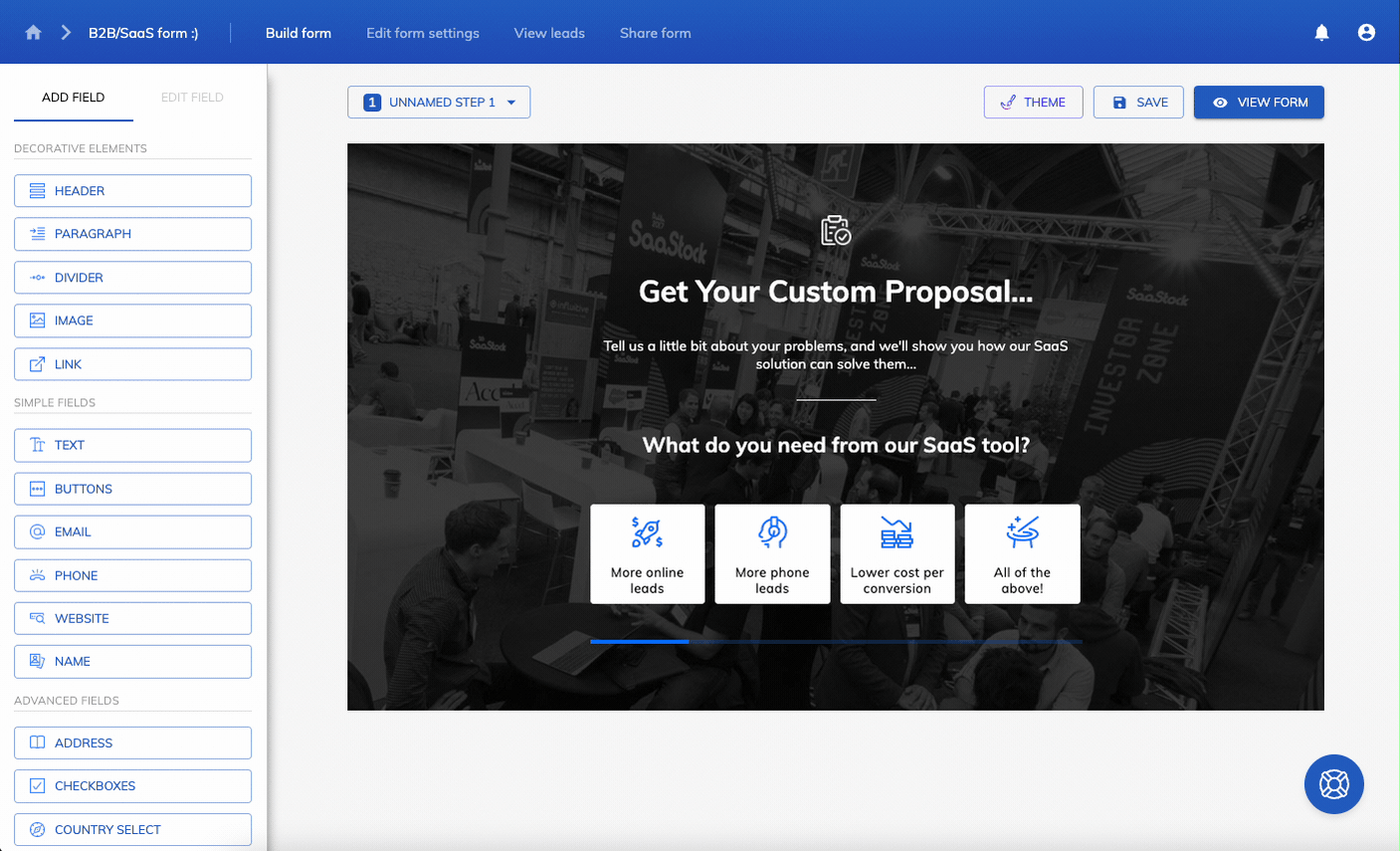 It has a 5/5 score on Capterra and is available on a 14 day free trial with no credit card required.
So now you know how, why not create your first multi step form and start getting more leads for the same ad spend?