Leadpages Alternatives – 6 Competitors To Consider In 2023
14th April 2023: This article was updated with new pricing information, additional leadpages alternatives and comparisons between competitors.
Finding the right tool to optimize your online presence can be a daunting task. If you're here, you've probably heard of Leadpages, but are there other viable alternatives out there? Yes – you're in the right place!
In this article, we'll explore 6 outstanding Leadpages alternatives that offer unique advantages and capabilities over Leadpages to meet your specific marketing needs. Whether you're just starting out or looking to expand your toolkit, these contenders provide powerful solutions to help you generate leads, create high-converting landing pages, and ultimately, grow your business.
To cut a long story short: we think Leadpages is one of the best available today. It's a code-free website and landing page builder employed by over 40,000 small businesses. You use the drag and drop builder to create a site or landing page from scratch and can pick from over 200 customisable templates.
Leadpages offers 'Leadmeter' built-in conversion guidance, real-time analytics and split A/B testing to monitor what's working. It provides over 40 integration tools, unlimited landing pages, and no caps on your traffic. For small to medium-sized businesses that want a reliable landing page builder and top-notch customer support, Leadpages is a worthy choice.
However, it's worth exploring all of your options to find a landing page builder that suits both your company and your budget.
So, buckle up and let's dive into our favourite 5 alternatives to Leadpages.
Leadpages Alternatives Compared
Leadpages vs ClickFunnels
ClickFunnels is similar to Leadpages in that they're both landing page builders positioned toward conversion rate optimisation. Both tools are designed from the ground up to streamline the creation of high-converting landing pages and sales funnels, offering drag-and-drop builders, customizable templates and easy integrations with popular third party services.
But there are differences too: ClickFunnels is specifically designed for building comprehensive sales funnels and offers an all-in-one solution for businesses to manage their entire sales process. It's great for creating complex funnels with multiple steps, with specialist features such as upsells, downsells, and order bumps. ClickFunnels also includes a built-in shopping cart and affiliate management system, which makes it more suitable for businesses selling products or services online.
When comparing Leadpages to Clickfunnels, Leadpages is generally more affordable and caters to a wider range of budgets. ClickFunnels' pricing structure seems to target user with more advanced needs and larger budgets.
As of 2023, ClickFunnels have three pricing plans: Basic, Platinum and Funnel Hacker. These tiers include advanced funnels, templates, custom domains, and A/B split page testing. You can pay either monthly or annually, although the annual option can save you $480 per year on the Pro plan.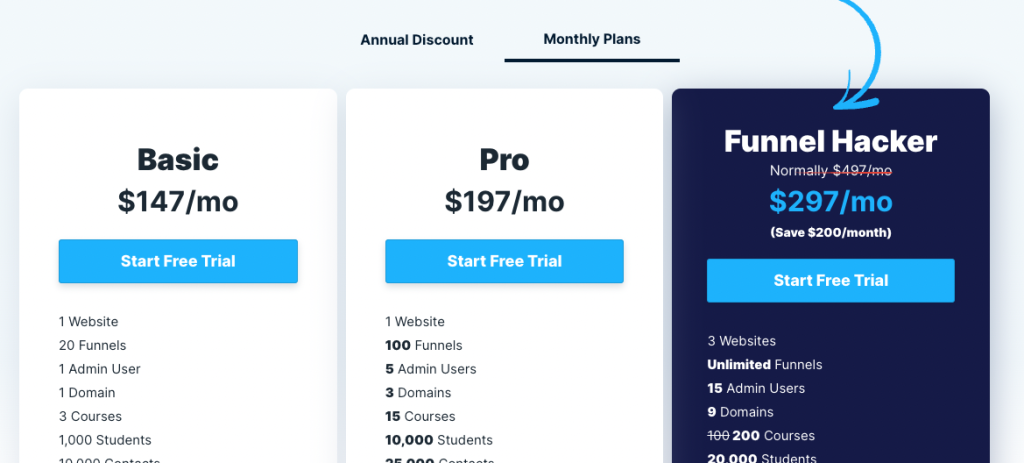 Although ClickFunnels is a fair bit more expensive, we think it makes a solid alternative to Leadpages if creating full customer journeys (or "funnels") is a high priority for you.
Leadpages vs Unbounce
At first blush, Leadpages and Unbounce are fairly similar when compared – they both provide a wide range of mobile-responsive templates, user-friendly drag-and-drop editors, and A/B testing capabilities to optimize conversion rates. They even include features such as pop-ups and sticky bars!
But despite their similarities, Leadpages and Unbounce have some notable differences.
Their pricing structures differ, with Leadpages generally being more affordable, particularly for smaller businesses and entrepreneurs. Unbounce does , however, offer more advanced features in its entry-level plan, which may justify its higher price point for some users.
Another key difference is that Unbounce provides a more extensive list of integrations and more advanced capabilities, like dynamic text replacement and AI copy generation. And while both platforms are user-friendly, Leadpages is typically considered more beginner-friendly, while Unbounce's advanced features may require a slightly steeper learning curve for some users.
Unbounce's form capabilities are somewhat lacking, but this shortcoming is more than made up for when combined with Growform's multi-step forms for Unbounce.
Leadpages vs Swipe Pages
Swipe Pages is a cloud-based landing page builder that creates responsive pages across different screen sizes. You'll have access to accelerated mobile pages (AMP) that increase your mobile loading speeds to capture visitors. It includes 16 app-like and animated mobile landing pages that react to the customer and over 40 landing page templates to try out.
The crisp interface is easy to navigate with a drag and drop editor that allows you to design landing pages without coding knowledge. There's everything from pricing tables, videos, animations, colour swatches, Google Fonts, Unsplash images, a countdown timer, and an accessible dark theme mode to make things as easy as possible.
All in all, Swipe Pages delivers visually pleasing and speedy landing pages that get the job done. However, it needs to work on offering more third-party integrations, some of which you'll find elsewhere. That said, Swipe Pages is still a relatively new company, and no doubt they're focusing on making improvements for the roadmap ahead.
Swipe Pages offers three price points: Startup, Marketer and Agency, which you can pay monthly or annually. Each tier has unlimited landing pages, conversions, full-chat and email support, and Stripe and Zapier integration. Keep in mind traffic is capped at different amounts for each tier.

The Marketer option is the best choice compared to Leadpages, as you get five domains, A/B testing, access to five client subaccounts, and five team members can use it, all for a lower price. If you pay upfront with the annual option, you save up to 40% off the overall cost—definitely worth considering. You can also try out the free 14-day trial available across all plans.
Leadpages vs GetResponse

GetResponse, like a lot of companies, has repositioned itself as an all-in-one marketing software. They remain close to their email marketing roots, with templates, newsletters, and insightful email statistics. The platform is also available in 26 languages, so there should be no barriers between your team, business and clients.
There's a dedicated website builder, chat functionality, and sales funnel builder. If you get stuck, GetResponse's customer success team is available 24/7 on live chat, and there's email support available in eight languages. Clients can also contact you with the live chat feature, and you can respond on the go using the mobile app.
In terms of landing pages, you can select from over 200 adaptable, mobile optimised designs and alter them to suit your brand using the drag and drop editor. There are plenty of features to play with here, and when you're ready, you can publish on your site or one of GetResponse's free domains and then track clicks and leads as required.
Overall, GetResponse offers high-quality customer service and email automation functionality under one roof. That said, the landing page builder can be fiddly, and they could simplify the pricing plans.
GetResponse has four pricing options: Free, Email Marketing, Marketing Automation and ECommerce Marketing. The free plan allows up to 2,500 newsletters per month, and you can create and host one landing page. The basic plans feature an extensive selection of email newsletter templates and unlimited landing pages.

The Marketing Automation option is a smart choice because it offers a selection of marketing automation and advanced segmentation features on top for $59 per month. The higher e-commerce tiers are for larger-scale companies; quotes are available upon contacting the team.
When compared with Leadpages, it's easy to see the difference here: Get Response stands out as a comprehensive email marketing and automation platform, whereas Leadpages primarily focuses on creating landing pages and lead generation. As an alternative to Leadpages, Get Response is particularly recommendable if you're after something with a focus on email automation rather than just lead generation – it offers a robust set of tools for creating, managing, and tracking email campaigns, along with advanced automation features.
LeadPages vs OptimizePress

OptimizePress is a powerful WordPress page and funnel builder designed to boost your sales and leads. This plugin has over 40 conversion-tested landing page templates and 20 pre-built funnels to grow conversions. OptimizePress' team adds new templates weekly and regularly updates the platform to have the latest features and tools.
You can choose from opt-in pages, lead magnet pages, waiting list pages, and even pop-up overlay forms. Once you've chosen your template and imported it to the builder, you can start designing; if you prefer, you can begin with a blank canvas.
The builder is a dream to use—it's uncluttered and responds intuitively with a drag and drag editor that works in real-time. No fixed sidebars or distractions impede your creation as OptimizePress uses a full-width view. There are 40 custom elements such as opt-in forms, countdown timers, audio players and more.
OptimizePress is a great option for agencies, entrepreneurs, marketers, and writers. However, it's worth mentioning that the plugin is difficult to uninstall. If you plan ahead, you can mitigate most problems beforehand.
OptimizePress offers three main pricing plans: Essential, Suite and Agency Standard. All tiers come with unlimited pages, leads and traffic, as well as email support and the WordPress SmartTheme.

The Suite option is the best choice. It includes 20 personal sites, A/B testing, a metrics dashboard, and checkout options for your websites. Unfortunately, there are no monthly options, but the cost works out at $17 per month in the long term, and they do offer a demo and 30-day money-back guarantee.
LeadPages vs Thrive Architect

Thrive Architect from Thrive Themes is a thrifty WordPress landing page builder plugin. There are over 300 intelligent landing page templates, the visual editor is straightforward, and the UI is fluid, with click-to-edit page components in real-time. The features include opt-in pages, pricing tables and over 40 third-party integrations.
In terms of customisation and design, the editor has 34 different elements, including countdown timers, gradient colours, and over 700 custom fonts. You can also add HTML/CSS without stripping your code if you feel adventurous.
Overall, Thrive Architect is excellent value for money for marketers, entrepreneurs, and startups. However, there can be a steep learning curve, and the standalone price option doesn't offer A/B testing. If you choose one of the two higher payment plans, you can remedy this.
The three pricing tiers available are Thrive Architect, Optimise Bundle, and the Thrive Suite. All payment options are annual; there is a quarterly option of $99, but it works out to be more expensive. The three tiers include unlimited support, updates, and a 30-day money-back guarantee.

The Thrive Suite is a comprehensive toolbox with ten plugins, over 1300 templates, and exclusive training and webinars. Although $299 a year sounds expensive, the value is excellent, and it works out at $25 a month. You can start a 14-day trial of the Thrive Suite to see if it's for you.
Landing page builders FAQ
Here are some frequently asked questions about landing page builder software.
Leadpages pricing: How much does Leadpages cost?
As of 2023, Leadpages costs $49 per month when billed monthly on their Standard plan, going up to $99. Users can save up to $300 by paying the annual option – or about 25%: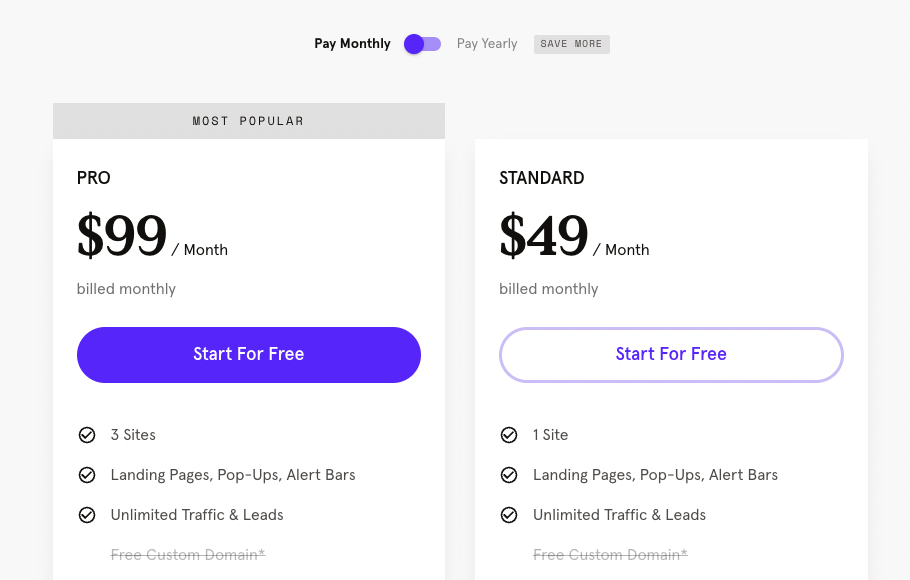 The Standard tier includes unlimited landing pages, traffic, leads, and hosting on one site, and more can be purchased with Enterprise plans.
Is Leadpages worth it?
Yes and no; it depends on what features are essential to your company. Swipes Pages is a better option for lightning-fast landing pages. Thrive Themes is also a superb choice if you're on a budget.
For the best page templates and sale funnels, consider OptimizePress. Or, if you're more of a corporate customer, ClickFunnels is a solid option. For top-notch communication features, GetResponse is an obvious choice.
And if you're happy with Leadpages, trust your gut.
What components make a landing page?
In terms of structure, a successful landing page should include a video or hero image, your unique selling point (USP), the advantages of what you're offering, social proof that you're trustworthy, such as a rating from Trustpilot or a testimonial, and lastly, your CTA.
Does A/B testing work, and why do I need it?
Yes, A/B testing is vital. It compares two versions of, for example, your email, web page, or landing page to understand what's working without relying on guesswork.
Regarding landing pages, A/B testing compares two versions of the page, with one element changed—such as an image—to two different groups with the same number of people. Afterwards, you observe the analytics, so the traffic, clicks or conversions, to see which group performs better over a set amount of time.
Though used interchangeably with A/B testing, 'Split testing' differs: it compares two entirely distinct designs. It's less precise, and you can't pinpoint which element your users favour. That said, using this type of testing comes down to preferences; both types are helpful for your business.
Ultimately, the little details affect your conversions, which is why testing is critical. Think about every element, like the colour of your CTA, the videos, images, and the forms you use. According to Digital Resource, 80% of web visitors never make it past the headline. That's the scale of your challenge.
Need more leads?
You've successfully chosen a landing page builder, created some great landing pages, and customers are coming to your site, but they aren't staying to fill in their details.
The truth is: your visitors need to feel encouraged at every step of the process. In fact, 53% of mobile users abandon forms that take over 3 seconds to load. You overcomplicate things at your own risk.
Enter multi-step forms.
What are multi-step forms?
Multi-step forms are tools that capture information and convert visitors into leads while significantly boosting conversion rates. They are a crucial part of digital marketing campaigns and are generally—although not always—found on the landing page. Still not sure? Here are some examples of great multi step forms.
Less information is displayed at once with multi-step forms because they break sections down with a progress bar; therefore, customers are more willing to invest their time and money in your business.

A standard web form has too many questions, and the choices can seem overwhelming, leaving the user to question whether they are applying for a job or not. Multi-step forms differ. They use the psychological principle of 'Sunk Cost Fallacy' to persuade and seamlessly guide the customer into starting and completing their journey.
By almost gamifying the process, you make it visually pleasing, straightforward and satisfying for the page visitor. It creates a sense of momentum, like being second in a queue—by waiting a few minutes, the customer knows the reward is within reach. With multi-step forms, users want to click on the next question, and before they know it, the sign up is complete.
The layout is important too, and you might need to rethink the questions and order to ask them. For instance, requesting personal details straight away is a big mistake—you need to ease them in first. The aim is to ask pertinent questions that provide the customer with an explicit quid pro quo exchange.

The good news? You can do all that and more with Growform, a hassle-free multi-step form builder.
Growform gives you instant access to over 20 lead gen templates, there's Google Tag Manager integration, and you can send leads to over 300 locations with Zapier.
Try it out for free with a 14-day trial. No credit card details required.