TrustedForm Masked Certificates: How To Use Masked Certificates In TrustedForm
A "masked certificate" is a copy of the normal TrustedForm certificate, but where the lead's originating website is hidden.
By default, it is generated during the claim process for every claimed or retained TrustedForm Certificate, except for those produced by Facebook Lead Ads.
This type of certificate is a valid TrustedForm Certificate with a unique 69-character URL, just like the original certificate – but it does not display the page URL where the lead was created, nor does it show the Session Replay or Event Log.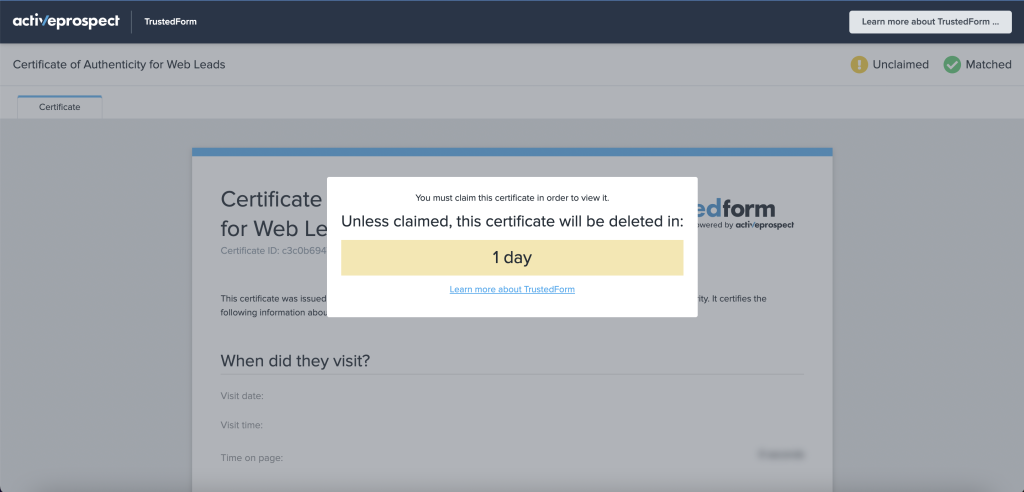 Resellers of leads use masked certificates to provide the same level of verification and peace of mind associated with regular certificates, but without exposing the originating website.
Privacy implications of a masked certificate
The masked certificate supplies crucial user details like IP address and location, giving an overview of the consumer session. This reassures the lead buyer that the seller is presenting a properly documented lead.
However, when faced with a consumer complaint, the lead buyer might require access to the comprehensive certificate, which comprises the form's page location and user session playback. The vendor must preserve the certificates and manage their TrustedForm account for a number of years to fulfll requests for the complete certificate.
How to generate a masked certificate
Retain the TrustedForm certificate for the lead by following this article
Obtain the response from the claim procedure, which will contain the masked_cert_url
After acquiring the masked certificate associated with your lead, you can share this value with your customer as the lead's TrustedForm certificate.
Introducing Growform
If you're looking to streamline your lead generation process and capture more leads, Growform may be of interest. It was built from the ground up to boost conversion rates, and it used by lead generation professionals across the world.
It has a 1-click TrustedForm integration, so certificates can be generated for each lead and stored with the data.
There's a 14 day free trial available, with no credit card required.