5 Unbounce Landing Pages Examples You'll Want To Steal
We've written quite a lot about Unbounce recently, our favourite landing page builder.
Unbounce is the perfect tool if you want to quickly throw together a high-converting landing page and don't have a team of developers at your disposal.
It's great to see some companies taking it a step further, using it for their main website or pushing the boundaries of what can be done using custom code.
So, here are 5 Unbounce landing page examples you may not believe were built on Unbounce!

We've linked to each landing page so you can check them out for yourself.
5 – Grand Canyon University – "Find Your Purpose"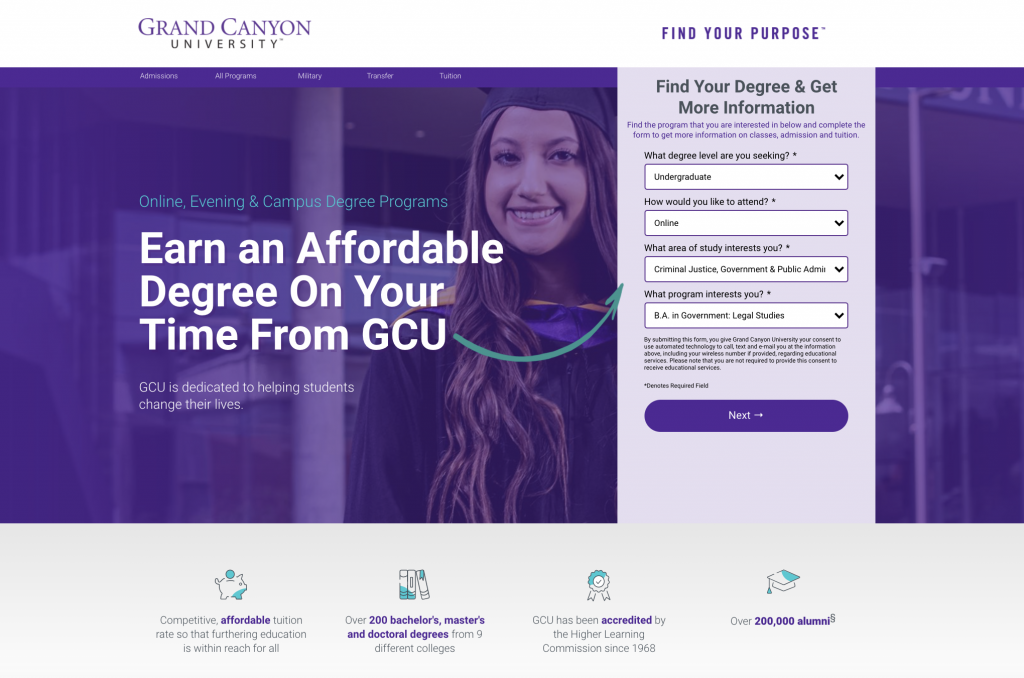 This super professional landing page features custom-designed icons, parralax images and a simple multi-step form.
From a CRO perspective, we loved the clear CTAs, good use of imagary (no boring stock photos here) and social proof in the form of testimonials.
The mobile variant is nice too, with the main form appearing suitably high up on the page and everything keeping a logical order.
4 – CarsForSale's dealer website offer
Okay, "won't believe it was built on Unbounce" is a stretch for this one – but this CarsForSale landing page is clean, professional and to the point – so deserved a mention:
The value proposition is clear, it includes a solid special offer and everything is visually consistent.
We would've broken up the 8 field form into a few steps and made the CTA a bit clearer, but it's a solid start.
3 – Caroo's employee gift boxes page

Caroo's landing page is so built-out we had to double check it was built on Unbounce, and sure enough, it was! The designers clearly put a lot of work into this page.
Social proof is tip-top: logos of large companies, relatable testimonials and 4.5 stars above the fold.
Professionally created product imagary clearly conveys what we expect to receive in a gift box, and leaves no doubt to the product's contents.
Our only criticism of this page is there is a lot going on – we'd try to make better use of negative space to avoid overwhelming users.
2 – Just Wills & Legal Services's Multi Step Form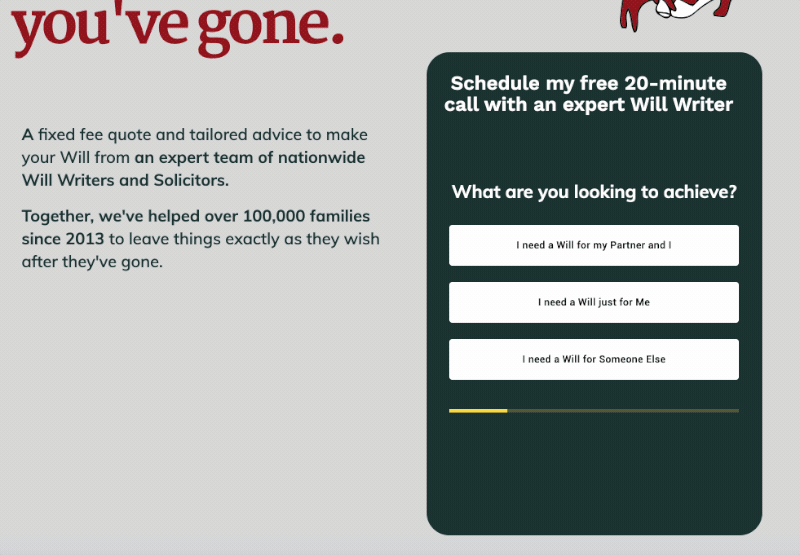 We love to see a solid landing page that uses our 2 favourite pieces of marketing tech – Unbounce and Growform!
Writing a Will is a serious decision, so this landing page pulls out all the stops in terms of demonstrating trust and threat reduction. The "100% Satisfaction Guaranteed" seal eliminates any lingering doubts, and testimonials convey the benefits of the service in the customer's language.
Rather than asking all 8 fields upfront, this page uses a Growform multi-step form to take advantage of the sunk cost fallacy and boost conversion rates.
1 – Fender's "Fender Play" landing page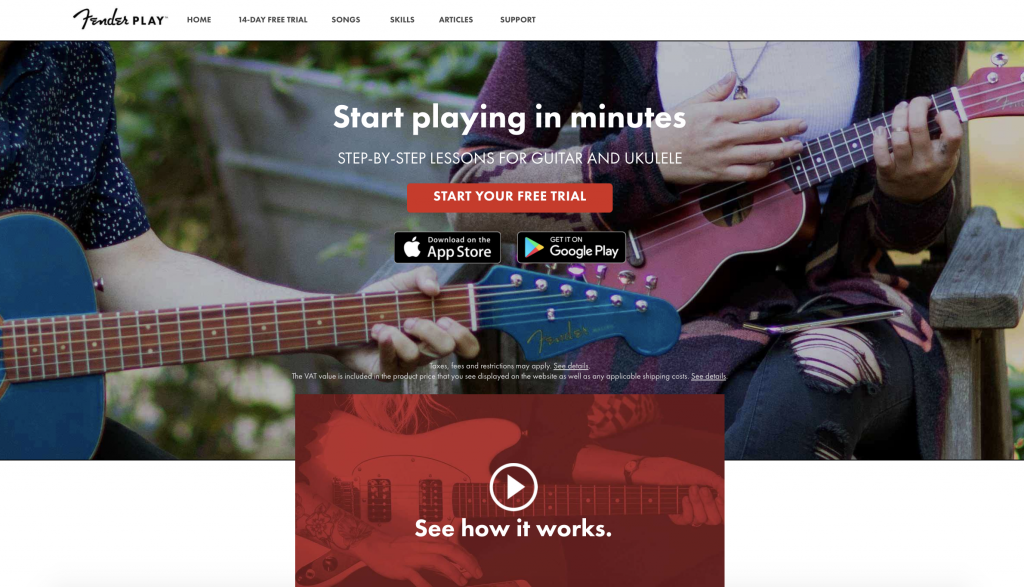 It's always cool to see a household name using the same tools as us – it shows what's possible with a bit of clever design.
Fender's landing page for their guitar lesson software is a really well designed page, with crisp imagary and good use of negative space. Videos are a fantastic way of communicating complicated concepts, and Fender use the medium to great effect.
Ever wanted a multi step form on your Unbounce page?
Some of the best landing page examples on this very list use multi step forms, and it's no coincidence – smart designers know they can get up to 2x more leads by splitting their form up into a few steps.
Up until recently, creating multi-step forms on Unbounce was hard – but Growform changes that.
You can try Growform on a free 14 day trial, with no credit card required here.