The Ultimate Guide To Solar Lead Generation In 2023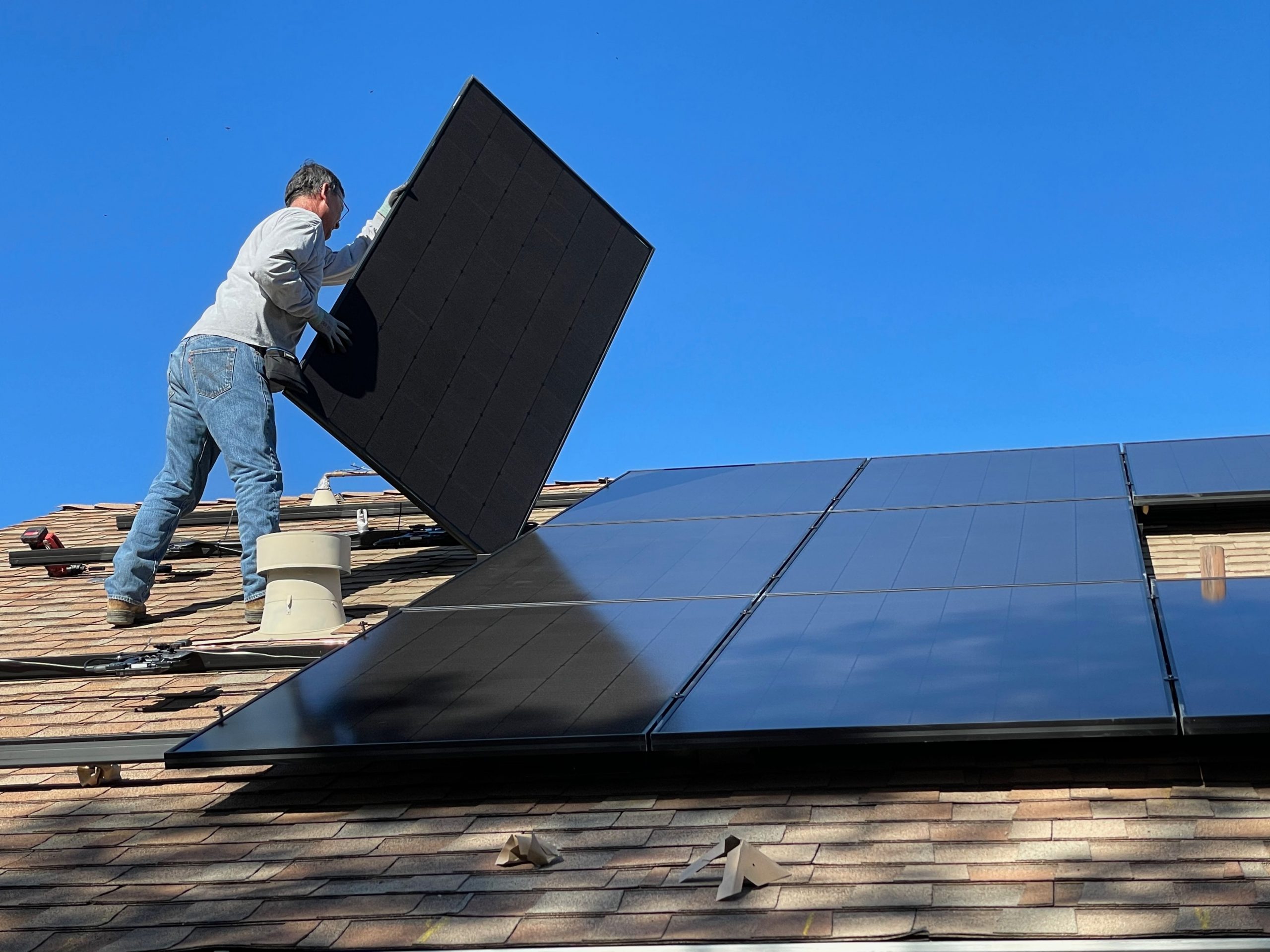 The Ultimate Guide To Solar Lead Generation In 2023
April 2023: This article was updated with new information and solar lead generation best practices.
As the solar industry continues to thrive, it becomes increasingly important to stand out from the crowd. Whether you're an installer or solar lead gen company in need of more leads, this monster article is for you.
We've gathered the best solar lead generation companies, researched up-to-date lead costs and prepared an actionable guide to generating your own leads. We'll share proven strategies, tips, and industry secrets to help you skyrocket your solar leads.
Here's what's coming up:
What Is Solar Lead Generation?
Solar lead generation is the process of attracting interest from potential solar panel customers and converting that interest to a "lead".
But what does that actually mean?
To explain the process visually, here is a typical display ad…
Which sends the user to a form like this…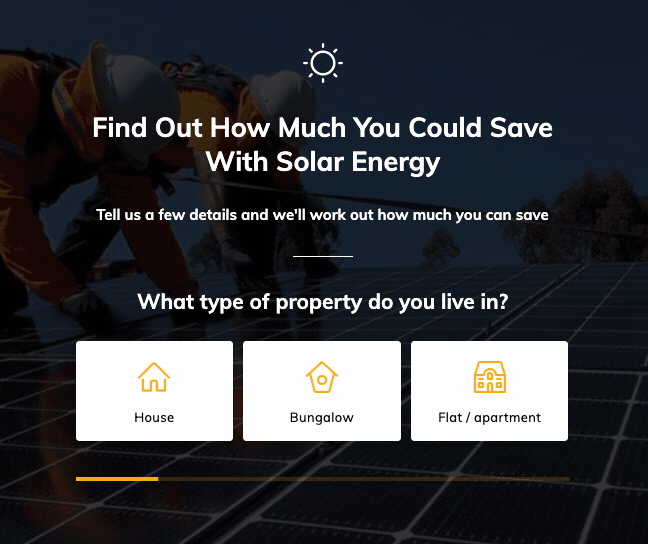 … and is ultimately delivered directly to the solar company's CRM (customer record management) tool, like Salesforce.
A typical "lead" will of course include the customer's name and contact information.But it will also include "qualifying" information like the size of their roof and readiness to purchase.
There are other ways of generating leads (like cold calling, canvassing or mining databases) – but we're not interested in those spammy tactics – this article is about modern lead generation in 2023!
What Are The Benefits Of Solar Lead Generation?
There are several benefits to solar lead generation beyond "traditional" marketing practices like flyering or batch-and-blast emails (yuk!).
For Solar Product Installation Companies
A solid solar lead generation process can help:
• Better qualify leads, and do so faster and more efficiently
• Reach more potential customers in a cost-effective way
• Build a scalable, predictable pipeline of revenue
• Stop relying on "pull" marketing and "get out there" during a recession!
For Solar Lead Generation Companies
The benefit is simple: money!
Solar lead gen companies make their money with a strategy called "arbitrage".
This means they buy traffic at a relatively low cost from ad networks like Facebook and Google. They then send the users to a high performing landing page and sell the leads to make a profit.
The Different Types Of Solar Lead
Not all solar leads are created equally – these are the main different types of solar lead you'll see on the market today:
Exclusive vs Non-exclusive (or "Comparison" Leads)
Exclusive leads are sold only to you, so your customer won't have spoken to another solar installer.
Non-exclusive (or "comparison leads") are sold to 3-4 companies at a time.
Non-exclusive leads will nautrally be less engaged, and come with a risk that you could be undercut completely.
That said, if your prices are competitive and you're fast in responding, non-exclusive leads can work out cheaper.
Pay-per-lead vs Revenue Share
Pay-per-lead does exactly what it says on the tin. You'll pay a fixed cost for each lead you receive, whether you conclude the sale or not.
Meanwhile, revenue share arrangements mean you'll split the sales revenue you generate from the lead.
The revenue share model reduces risk to you, but will typically be more expensive in the long run.
Why? The lead generation company will want to make additional margin and be compensated for the additional risk on their side.
If you're unsure about lead generation, you should consider starting with a revenue share before moving to a cheaper pay-per-lead model.
Qualified vs Unqualified
A qualified lead has been checked to comply with a certain criteria. In other words, it has not been "disqualified".
In reality, nobody sells "Unqualified leads" – rather, there is a spectrum of how qualified a solar lead can be.
For example, a basic qualification criteria for a customer might be:
They are a homeowner
They spend a certain amount on electricity each month
There are no obstructions on the roof
Some lead generators use a phone call to qualify leads, whereas others will be qualified on the multi-step form.
Technology also makes this smoother: satellite imagery can estimate the roof size, or phone numbers can be verified in real time!
How Much Do Solar Leads Cost? (Updated For 2023)
You can expect good, exclusive residential solar panel installation leads to cost from $110 – $160 each. This can be less ($60-$80) in some areas or with less qualification, and more if you're in a particularly dense or competitive area.
With comparison campaigns, it's possible to buy leads at significantly less ($5-$15), but keep in mind you'll be competing with other providers so will see a lower conversion rate.
Solar Lead Generation Companies
We've researched the best solar lead gen companies in the USA, UK and Australia.
We filtered through hundreds of companies and chose those with the most favorable third party reviews, good levels of transparency and fair pricing models.
Solar Lead Generation Companies In The USA
Founded in 2004, RGR marketing is one of those lead generation companies that consistently comes up when talking to industry professionals.
They have a solid reputation and are transparent about their lead generation process and technology.
Rather uniquely, RGR see themselves as a partner of your org and will help you implement best-practices to improve the way you handle their leads.
Peak Marketing Service provide leads on a Pay-Per-Lead basis, and generate leads from their various web properties in the solar industry, as well as digital marketing campaigns.
They're transparent about costs and processes, and state on their website that residential solar panel installation leads cost $40 – $92 each.
Invention Solar get a special mention as they're genuinely focused on solar, so will understand the industry better than those with a wide spread.
They provide exclusive and non-exclusive real-time leads, as well as "warm transfers" that are transferred directly from their sales team to yours to set the appointment.
Solar Lead Generation Companies In The UK
Solar Gen get a special mention as they exclusively work with solar PV installers – and therefore know the industry inside and out.
They have highly rated support from real solar installers in the UK, and have a rigorous qualification criteria.
They only work on a pay-per-lead model, and use ad networks like Facebook, Google and YouTube to drive traffic.
Prism have generated over 275,000 leads, and boast a whole host of in-house expertise: from graphic designers to ad managers.

They use Facebook, Outbrain, Taboola and others to generate large quantities of solar leads. They're well-specialized in solar and similar industries, rather than serving hundreds of unrelated niches.
All leads are exclusive, HLR validated and delivered via API to your CRM or straight to your dialler.
Pronto are the highest scale UK-based solar lead generation company we've found, generating over 1 million leads per year.
Pronto's leads are always exclusive and on a pay-per-lead basis.
They have numerous testimonials from high-profile clients such as Vitaly Life, Optical Express and Safe Style.
How To Generate Your Own Solar Leads Online: The Solar Lead Generation Process
1. Find Potential Customers
The first step in any lead generation process or "funnel" is finding potential customers.
This can be done in a number of ways, including:
PPC Solar Lead Generation
This means paying search engines "per click" to reach people searching for particular search terms.
For example, you can pay every time a user clicks your ad when searching "Solar panels installation near me".
These clicks are expensive ($20+), which is why it's so important to have a high converting landing page and multi step form.
If you're targeting customers local to a particular area, search engines offer powerful location targeting capabilities. This means you can increase your bids for nearby customers whilst avoiding those outside your catchment area.
If you start with PPC, it's best to start off with tightly themed adgroups – as this lets you tailor ad text and landing page text to the particular search.
For more information on setting up your first PPC campaign, see this guide.
Generating Solar Leads Via Social Media
Social media lead generation means reaching people on social media platforms like Facebook or Twitter.
There are 3 main ways of targeting these users:
1.) Retargeting
Retargeting lets you target people who have visited your landing page before but have not yet converted.
Of course, this will only work if you already have some traffic to your website already.
2.) Lookalike-based targeting
"Lookalike" audiences allow you to upload a list of your best customers (or track them with a "pixel").
You can then target the closest 1% or 5% of people who "look like" them on social media.
Lookalike targeting is only useful once you have some traffic going through your lead gen form already. 50-100 form submissions is enough to get started.
3.) Interest-based targeting
Interest-based targeting lets you reach people based on the interests they have expressed on social media.
For example, you might target people who have "liked" green energy pages or follow solar installation companies.
This is probably the hardest place to start but can generate good results!
Ads and creative
In order to achieve effective targeting, it is crucial to have well-designed ads.
So, what constitutes a good ad?
An excellent solar social media or Facebook ad should feature:
A specific, targeted location – ideally, the closest city or state, to ensure the ad's relevance.
A rough estimate of potential cost savings.
Information on any relevant government funding (people are drawn to free money!).
Eligibility requirements that prompt a "that's me!" reaction without excluding too many users.
A compelling call-to-action (e.g., "Click here to see if your roof qualifies").
As of 2023, it's important to note that video ads tend to be the most successful.
Tools like Moovly can assist in creating eye-catching video ads, even for those without prior experience.
The Facebook ads library offers a wealth of high-performing Facebook solar ads.
Simply search for competitors and examine long-running ads (just as we did!).
Here's an example of a solar lead generation ad on Facebook: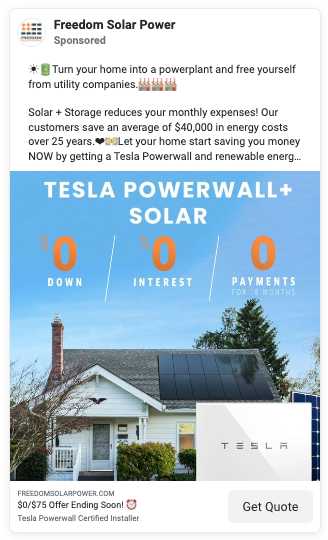 Native Advertising
We won't cover native ads in detail here, but many lead generation companies use native advertising.
This involves buying up space on publisher content (like newspapers or news sites) that feels "native" to their surroundings. They often have an editorial tone and can drive large volumes of traffic.
2. Drive Potential Customers To A High Performing Landing Page
It's not enough to spin up some campaigns and send them to your homepage.
You need a high-converting landing page built for the job.
The top 3 characteristics of a high converting solar landing page we've noticed are:
A strong, relevant headline: make sure your headline is clear and catches the eye.
The headline should hook the reader in, whilst the subheader reassures and gives more information. Your header should be highly relevant to the user's search, so they know they're in the right place and don't "bounce".
A well-defined incentive: make it clear what the user will get in exchange for their information. In the solar industry, this is typically a free quote – but it could also be a calculation of savings or a consultation.
Minimal distractions: remove any links or elements that could take the user away from your offer.
This is why landing pages don't typically link to everything else on your website – you want to keep the user focused on converting!
Landing page builders like Unbounce and Leadpages let you build high-converting landing pages built on best practices.
3. Capture Leads With A High-converting Form
Now you've driven traffic to your landing page, it's time to capture those leads!
If you want a high conversion rate and low cost per lead, you need a carefully designed form.
We at Growform have put together a collection of best-practice lead gen forms (including one specifically for solar) here.
Growform is the only form builder designed to get you more leads, and is best-in-class in the solar industry.
Some general tips to create a high converting solar lead gen form:
Start with "low touch", non-personal information that will help you qualify the lead – like "How big is your roof?", "Do you have a pitched or flat roof".
End with more personal information, and always provide a good reason for asking.
Make it extremely clear what the benefit of filling in the form is (free quote or savings estimate are good examples).
4. Send Your Leads Over!
With your first lead collected, you need to send it over to your CRM or dialler.
If you're using a form builder like ours, you can connect to over 300+ destinations via a tool called Zapier.
Or, if you're generating solar leads for sale – you can distribute them using a tool like Leadbyte or Databowl.
5. Rinse, Repeat And Track!
Now that you've got the ball rolling, it's time to rinse and repeat!
The most important thing is to track your progress, so you can see what's working, what isn't and where you need to make changes.
You should use UTM tracking to understand where leads are coming from.
Then, you can double down on the campaigns that work.
This is easier than it sounds.
Settings in the ad networks let you automatically add UTM tags to your URLs, and you can then pass them as a hidden field into your form builder.
Solar Lead Generation FAQs
How do I know if a lead is qualified?
A lead should at least be real and contactable, and should be in a good position to buy and benefit from the equipment.
If your leads aren't picking up, never seem to have enough money or can't justify the price of installing solar panels – they need to be more qualified.
How do I follow up on leads?
First, it's important to make sure your customer is expecting a call from you.
This can be done by sending an email immediately, or on the "thank you" page of the form.
Second, contact your leads quickly.
The gold standard is to contact customers within 5 minutes of the initial enquiry.
You'll see lower conversion rates as the hours and days drag on.
A good follow-up script phone script will ensure the customer says "Yes" to most questions (rather than open-ended responses) at first, followed by the efficient setting of an appointment.
You should also be well-practiced in confidently handling the most common objections ("It's too expensive", "it'll look ugly", etc).
What are the best tools for solar lead generation?
For high-converting multi-step forms: Growform (that's us!).
To distribute leads: Zapier, Databowl and Leadbyte.
For building landing pages: Unbounce, Leadpages, Instapage.
When designing ads: Canva.
What types of leads are best?
The "best" leads are highly qualified, highly motivated and exclusive to you.
However, these leads will also be the most expensive, so may not be best for your company.
If you're very price-competitive, non-exclusive/comparison leads might work well for you – as you can get the leads at a fraction of the price but "win" the deal most times.
Or, perhaps you have plenty of time and an efficient call-center?
In this case, it may be cheaper to buy less qualified leads and do the qualification on your side – while other buyers pay the premium for more qualified leads!
How do I choose the best solar lead generation company?
A good solar lead generation company will be perfectly transparent in the way they generate leads (usually through a blend of Facebook, Google, Display and Native) – rather than spammy practices like cold calling or bulk emails.
Aside from transparency, look for positive reviews on the website, good customer service and a strong specialism in the solar industry.
Introducing Growform: The Ultimate Form Builder For Solar Lead Generation
It's hard to generate leads for solar panel installation.
Visitors are more distracted than ever, and will bounce off your page as soon as they see a complicated form.
Growform lets you build beautiful forms like this: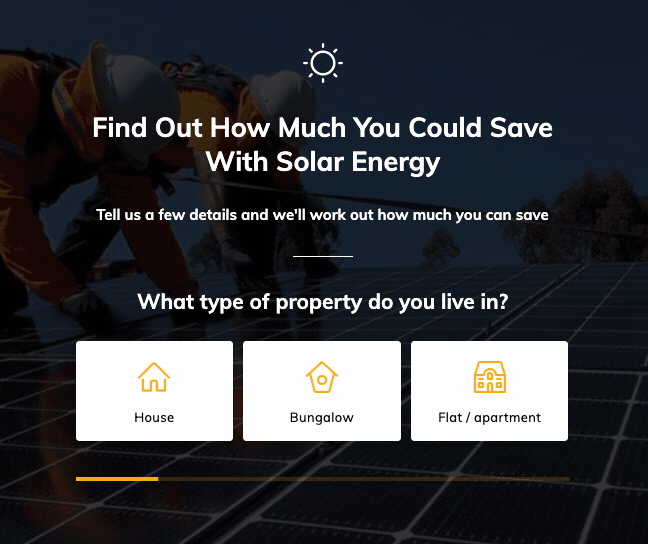 The tool is used by solar companies across the world to generate more leads from the same traffic, and is designed to improve conversion rates significantly.
Best of all, it comes with a 14 day free trial with no credit card required!